A small table made from several timbers with veneers, has veneers repaired and table completely refurbished.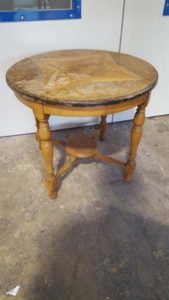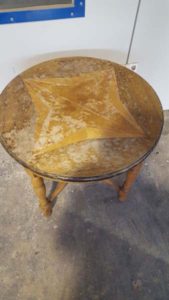 This lovely small round table is part hand-crafted, and part machined. Built in the late 1940s, the timber construction includes combinations of a NZ Tawa base with hand-crafted NZ Tawa veneers, and American Walnut, on a machine made Pine core-board. This style of furniture was typical of the 1940-1960s era. Our client had wanted to refurbish this piece for many years. Finally, when they started to refurbish the house, the wee table got its turn too.
Ordinarily an accidental splash of water from a vase of flowers would have ruined this type of furniture, particularly the veneers, but Earthwood completed the renovation with a modern water resistant two-pack polyurethane satin finish, and now it will handle those little spills without any problem for years to come.