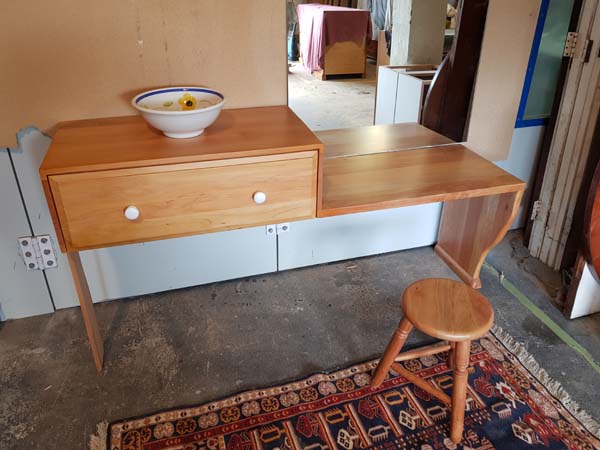 Handcrafted Macrocarpa Bathroom Vanity and Stool - $950+GST
Beautifully finished elegant statement furnishing for your bathroom. Macrocarpa bathroom vanity and stool handcrafted by Earthwood and finished in a hard-wearing water-resistant 2-pack satin polyurethane. 1700mm wide by approx 450mm deep, 700mm high on the upper level and approx 450mm high on the lower level. Designed to snug in on a left-hand wall but we can make adjustments to suit your requirement. Drawer includes cut-out to allow plumbing to go through the top and out the back. Ask us for more images showing detail. Free delivery within Auckland District.
Elegant Native Timber Dining Chairs x6 - $2000+GST
Six stylish brand new native timber dining chairs completed by Earthwood with high quality upholstery from artisan upholsterer, JBU Ltd. These chairs were slightly damaged stock from a now defunct manufacturer. Earthwood made repairs leaving a couple of beautiful unique knots in one or two inside legs. These elegant dining chairs have a retail value of around $3800. Free delivery within Auckland. Available for pick-up. Will ship to other parts of the country at purchaser's expense.