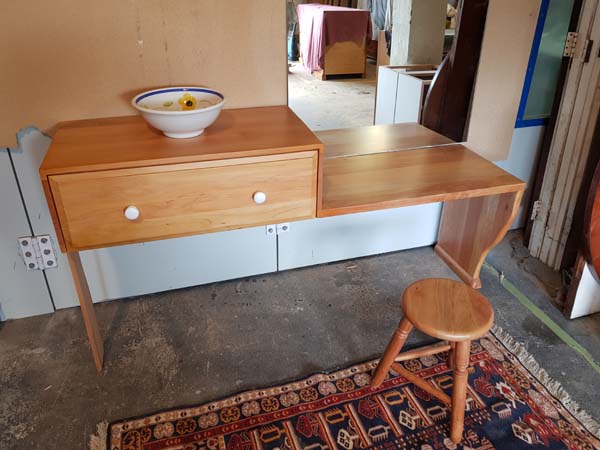 Handcrafted Macrocarpa Bathroom Vanity and Stool – $600 + GST
Beautifully finished using tough polyurethane suitable for wet areas especially for your bathroom.
Macrocarpa bathroom vanity and stool handcrafted by Earthwood and finished in a hard-wearing water-resistant 2-pack satin polyurethane.
1700mm wide by approx 450mm deep, 700mm high on the upper level and approx 450mm high on the lower level. Designed to snug in on a left-hand wall but we can make adjustments to suit your requirement. Drawer includes cut-out to allow plumbing to go through the top and out the back.
Ask us for more images showing detail.
Free delivery within Auckland District.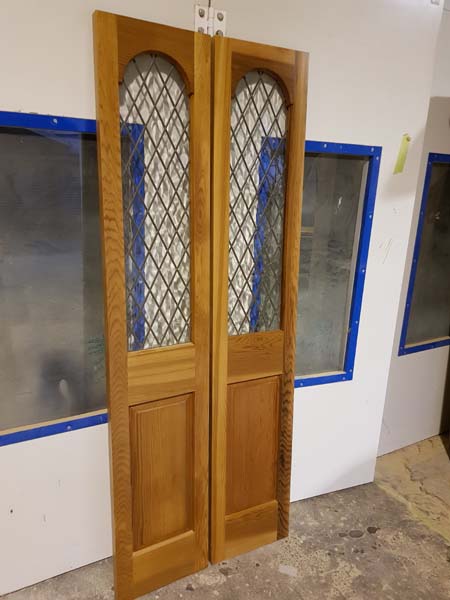 Solid Cedar Double Doors – $440+GST
Brand new elegant solid Cedar interior doors with glass panes overlaid by lead detailing.
Measurements: Total 760mm wide by 1980mm high
Leadlight is real lead fixed on top of the glass which has a textured finish and looks most graceful.
The doors have been finished in a hard-wearing two-pack pack satin polyurethane
1940s chairs $1295 each inc gst.
Here we have some stunning circa 1940s chairs,
They suit children for size although adults can comfortably fit in these too!
made from Totara and Rimu mainly, we have fully stripped out the frame and repaired broken items and loose joints then polished in these three colours which have been matched to the material coverings.
James from JBU Upholstery has done a perfect job of the upholstery and they are ready to buy now!
They are retailing at $1295 each.