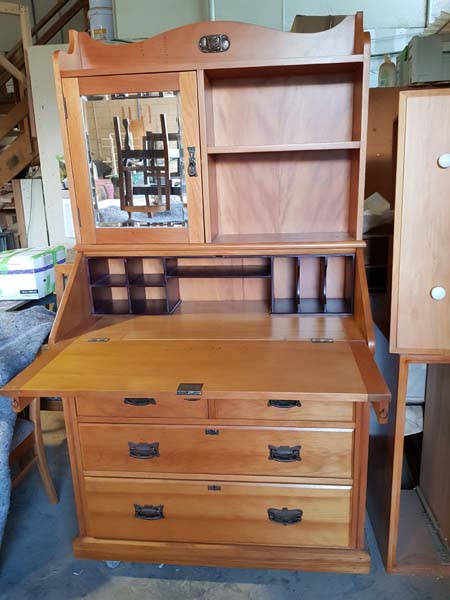 Solid New Zealand Kauri writing Bureau-dresser - $1800+GST
This extraordinary circa 1910 piece of furniture has been professionally restored by Earthwood. We were astonished by the piece, having never seen a similar one in over 45 years of furniture restoration. Even the backs of this piece are 11mm thick solid kauri. We presume this might have belonged to someone who liked to write in private and was perhaps restricted to the bedroom and so the piece combines the utility of both a writing bureau and dresser.

Measurements: 1880mm high overall and 1055mm wide.
The top cabinet has internal depth 200mm
The bottom cabinet has external depth of 510mm overall
The writing desk internal measurement to edge of lid 810mm

Delivery free within Auckland. This piece, if you were to have it made new would be in excess of 5k. The timber alone would be a significant portion of the cost.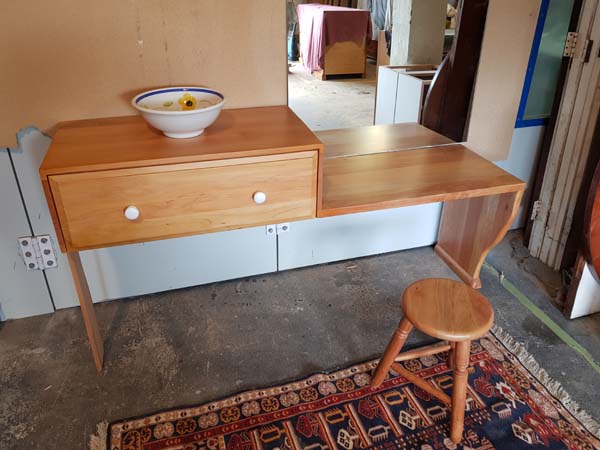 Handcrafted Macrocarpa Bathroom Vanity and Stool - $1050+GST
Beautifully finished elegant statement furnishing for your bathroom. Macrocarpa bathroom vanity and stool handcrafted by Earthwood and finished in a hard-wearing water-resistant 2-pack satin polyurethane. 1700mm wide by approx 450mm deep, 700mm high on the upper level and approx 450mm high on the lower level. Designed to snug in on a left-hand wall but we can make adjustments to suit your requirement. Drawer includes cut-out to allow plumbing to go through the top and out the back. Ask us for more images showing detail. Free delivery within Auckland District.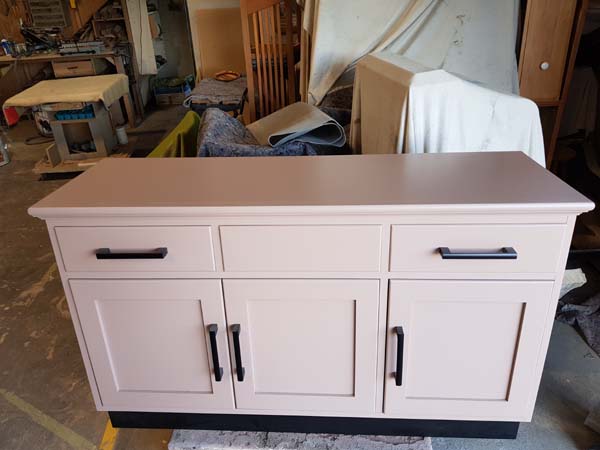 Top of current trend - two-tone Vanity - $1800+GST
Solid timber vanity professionally finished inside and out in a trendy modern colour combination with durable water-resistant products. Suitable as a bathroom vanity or could be used as a sideboard. The middle drawer has been fixed permanently in place so a waste pipe can be inserted behind and through the wall for use as a bathroom vanity which is what we did this lovely piece up for. Measurements: 1345cm long 440cm deep and 785cm high Completely refurbished by Earthwood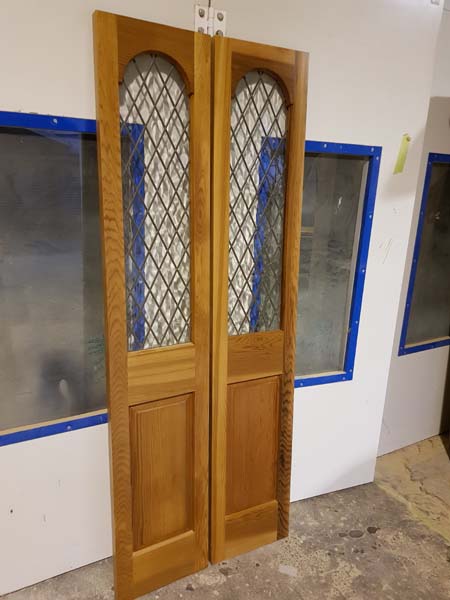 Solid Cedar Double Doors - $1600+GST
Brand new elegant solid Cedar interior doors with glass panes overlaid by lead detailing. Measurements: Total 760mm wide by 1980mm high Leadlight is real lead fixed on top of the glass which has a textured finish and looks most graceful. The doors have been finished in a hard-wearing two-pack pack satin polyurethane