The restoration of a German-made  circa 1930 Walnut Veneered Armoire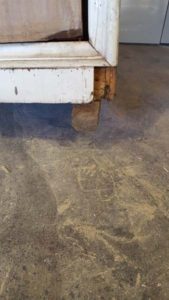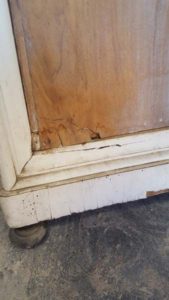 This beautiful walnut-veneered Armoire was made in Germany approximately 85 years ago. It was in a dilapidated condition when our client brought it in for restoration. She obviously knew what she was looking at because under all the paint and damage was a magnificent piece of furniture worth thousands of dollars. The cabinet had been thickly painted over and the paint had filled the walnut wood grain.
Earthwood stripped the paint to expose the extraordinary veneer beneath and effected repairs to multiple areas of the armoire including replacing many of the veneers, turning new feet, and replacing the base board. A number of panels had been broken, and these along with the curved upper panels all needed attention.
A saving grace of this lovely piece of furniture was that the original veneer was more than twice the thickness of modern standard veneers, so it allowed wriggle room for the job of removing the thick white paint.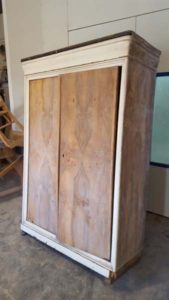 We finished this large cabinet with traditional french polishing to produce the translucent effect which totally shows off the brilliance of a high quality stunning Walnut veneer.