Lovely 1950s cabinet/bookshelf made by master craftsman
One of the lovely aspects of working with antiques and old furniture is in becoming a sort of historian. At Earthwood, we are not historians per se, but over the years we've learned a great deal about period furniture and can identify period pieces quite easily. There's something about handling furniture that was used by people long gone…the infinite question that hums in the background of who those people were, how they lived, what items they put on or in a particular piece of furniture?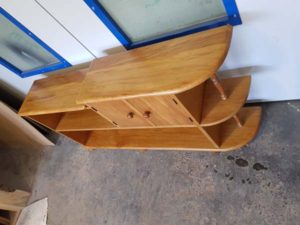 This cabinet doesn't qualify yet as antique but was made by our client's father in the mid 1950s. He was obviously a very good cabinet maker since this solid rimu piece has been beautifully made with attention to fine detail. The style is classic 1950s and holds plenty of sentimental memories for our client.
Aside from the sentimentality, the age, and the style however, the cabinet retains value and functionality as an excellent bookshelf. Earthwood refurbished it and put a beautiful finish on it with all the qualities of a good modern coating, but still in keeping with the 1950s look.
We love refurbishing these older pieces of furniture. They have undeniable character which is generally only found in eras which valued originality and creativity. It's relatively uncommon to find two identical pieces from this era because craftsmen of the day were individuals, not machines.