When to use wax on your furniture, and how to wax properly.
Waxing is used mostly for older finishes, especially a French Polished (shellac) finish.
It can be successfully applied over lacquers, polyurethanes and varnishes but only in low-wear areas where it can produce a beautiful glow. We definitely don't recommend waxing furniture which has been finished in a modern lacquer/polyurethane. It won't improve the surface, and in the case of table tops and high wear areas, wiping down with damp cloths create a most unsatisfactory mess. Wax and water simply don't mix.
If you do accidentally wax a modern finish, all is not lost. It can be removed with the application of turps until the wax residue is gone, and then cleaned with warm soapy water. WARNING: In such a case, always test a small area with turps first in case the surface is of an age that turps can cause damage.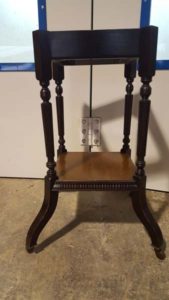 Method
At Earthwood we treat older dusty, dirty pieces of furniture in need of lustre with the application of a cleaning solution you can make yourself by mixing three equal parts white vinegar, turps, and raw linseed oil. This mixture separates quite easily, so be sure to shake it very well before application.
Apply liberally, then use a soft brush such as a tooth brush, and/or a rag and clean the item well. Once it's properly cleaned, give it a good rub down with clean cotton rags.
Let the item stand for a day until the surface is dry enough to accept the wax. Once the wax application has dried (perhaps fifteen minutes), then take to the newly waxed surface with a clean, dry, rag. Buff very lightly until the wax forms a slippery surface with the wiping action. Once you have achieved the 'slippery' surface, begin to rub with more pressure and you'll start to see the beautiful beeswax gloss appear.
Remember wax can always be removed as per above, although we think once you see the result, and smell waxed furniture you'll be hooked. Waxes stay around for a long time and can be buffed again whenever they seem dull, but we'd recommend re-waxing every six months to a year, depending how often you buff the surface in the meantime.