Repair and restoration of century old davenport
A davenport is an old-fashioned ornamental writing desk with drawers, and a sloping surface on which to comfortably write. This davenport is an early 20th century piece made from beautifully figured walnut veneer laid over a base of Baltic Pine. It was most likely made in the UK.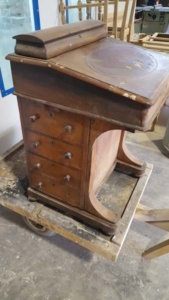 This piece was picked up on TradeMe for a couple of hundred dollars but it needed a fair amount of restoration work. We replaced many veneers and carried out lots of tiny fiddly minor repairs to inlays and extremities, then finished the entire davenport with traditional French Polishing to produce the translucent result you see here. French polishing really does make the most of any grain and the chatoyancy produced with this finishing method over walnut is insurpassable.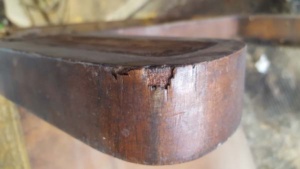 Even if antiques aren't really your style, the transformation from before to after is obvious and has added hundreds of dollars of real value back into what was a forgotten treasure.