The renovation and repurposing of a set of dilapidated kauri shelves from circa 1910-1930.
One of our clients was sentimentally attached to this set of solid old kauri shelving which had doors on the front but no back.He hoped to make a useful cupboard out of it if we were able to clean up the BEFORE EARTHWOOD rot, put backing in it, add windows into the front doors and generally refurbish the timber.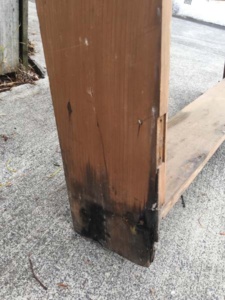 By chance a week earlier, we'd been offered some tongue and groove kauri which perfectly suited the era of this piece and we made the backing out of it. We repaired the base including fixing new moldings on both sides, and cut the wooden panels out of the top of the doors and replaced them with windows. We refurbished the entire re-made piece allowing some of the old worn patina to show.
The client commented, "I loved that philosophy of treating the timber so it still felt old. If I'd wanted new, I would have bought new. I'm over the moon."