A brief discussion on the options for damaged table tops.
Typically dining table damage is caused by hot mugs and dishes, and appears as unsightly white rings and marks on the table. Dining tables often wind up with everything thrown onto them from keys, to groceries and mobile phones just because it's the main surface in the dining room. They can become scratched and  second-hand-looking quite quickly. Some people solve this problem by using a tablecloth for protection, but that takes all the pleasure out of having a beautiful wooden surface.
The dining room is the focal point of most people's homes, and the most important item of furniture is the dining table.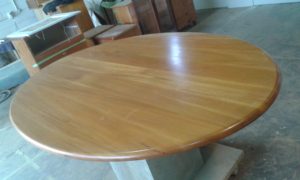 A damaged dining table can be refurbished with an elegant hard-wearing, heat-resistant finish for a fraction of the expense of buying new. Depending on the timber, and the look you prefer, Earthwood can show you a range of options and finishes. Some modern products such as liquid glass are incredibly tough. Refurbishing a dining top is often a good opportunity for a change of colour, especially if you want to match other items in the room.
Whatever your approach, take into consideration how your table will be used. Think about:
How much direct sun the table is likely to get?
Are children using it for homework, or playing?
Do you need to be able to place hot, or wet items directly onto the surface?
Is it a show piece and you'd like the wood grain to be available to touch?